Hong Kong Adventist Hospital Awarded Internationally Recognized Healthcare Accreditation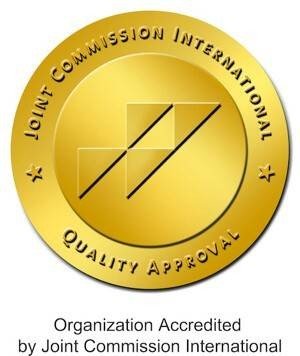 Committed to Excellence and Overcoming Challenges Together
Committed to Excellence and Overcoming Challenges Together
Joint Commission International (JCI) is one of the world's most recognized and rigorous accrediting bodies. In 2019, with the staff united as one, Hong Kong Adventist Hospital (HKAH) began preparations to be JCI-accredited. Although the preparatory period coincided with the COVID-19 outbreak, our staff were undeterred, and persevered with their commitment towards achieving excellence. We are constantly improving our infection control measures to enhance our health and safety standards, maintain a clean hospital environment, and protect our patients and staff.
Six Goals that Ensure Patient Safety
Six Goals that Ensure Patient Safety
JCI's mission is to ensure patient safety and urge hospitals towards continuous improvement, which is consistent with HKAH's philosophy. JCI assesses a hospital's ability to achieve the six International Patient Safety Goals, and encourages the establishment of policies, systems, and processes to meet international standards of healthcare and patient safety. As a JCI-accredited hospital, it affirms that our staff are dedicated to their duties, and committed to providing quality and safe care to our patients.
Multiple Accreditations and a Relentless Pursuit of Continuous Improvement
Multiple Accreditations and a Relentless Pursuit of Continuous Improvement
Since their establishment, both HKAH – Tsuen Wan and Stubbs Road have been accredited and certified by numerous international bodies, such as the Australian Council on Healthcare Standards (ACHS) in 2010. HKAH was also Hong Kong's first Health Promoting Hospital (2012), while its clinical laboratory was the first private hospital laboratory in Hong Kong to receive accreditation from the Hong Kong Laboratory Accreditation Scheme (HOKLAS) in 2009. Additionally, the Stubbs Road campus has obtained ISO 22000 certification for food safety management systems (2013). In 2017, the following was awarded: ISO 13485 for quality management systems (medical devices), ISO 9001 for quality management, and ISO 14971 for application of risk management to medical devices. Overall, they reflect HKAH's unyielding pursuit for excellence and quality in the provision of medical services.
‍
In 2006, HKAH became JCI Accredited, the first of its kind in Hong Kong. As a testament on the continuous improvement of our medical services over the years, the management has decided to pursue re-accreditation. To have achieved accreditation again this year is evidence that our service and patient safety standards are on par with international standards.
Rigorous JCI Accreditation Process
Rigorous JCI Accreditation Process
JCI Accreditation is internationally recognized for its rigorous assessment of healthcare quality, with as many as 1,146 measuring elements on management, service quality, and effectiveness. Undoubtedly, the award of the JCI Gold Seal is a result of our staff's united efforts. We are deeply encouraged, and emboldened to continue providing patients and their families with safer, and higher quality services.