Screening and Radiotherapy Services for Oncology
Screening and Radiotherapy Services for Oncology
Radionuclide & Molecular Imaging
Radionuclide & Molecular Imaging
Radionuclide & Molecular Imaging is one of the common medical detection methods these days, which diagnose and cure diseases using radiopharmaceuticals. The scanning tests use a special camera to take pictures of certain tissues in the body for clinical diagnosis after a radioactive tracer (radiopharmaceutical) is given to the patient. The tracer accumulates in the tissues, making them visible on the camera. Its extensive application ranges from tumors, brain, heart, lungs, the alimentary canal, bones, endocrine to urinary system and so on and it can effectively detect early expansion of tumors and physiological disorder of organs.
SPECT/CT
Infinia Hawkeye 4, which incorporates the technology of Single Photon Emission Computed Tomography (SPECT) and Computed Tomography (CT). It can perform a whole-body scan. With advantages of high speed and low dose, it is beneficial to diagnosis of diseases in early stage and monitoring of changes in the patients' conditions.
PET-CT (Positron Emission Tomography + Computerized Tomography)
PET-CT (Positron Emission Tomography + Computerized Tomography)
PET-CT (Positron Emission Tomography + Computerized Tomography) is an advanced medical imaging examination that studies the function / metabolism of our body by injection of radioisotopes into our body. PET-CT is commonly used to diagnose and monitor cancers, neurological disease (Brain disorders) and coronary artery diseases (Heart diseases).
Our PET-CT department also provides radiation therapeutic (LINAC / TOMO) planning services. In some situations, PET-CT Scan will combine with the therapeutic planning to improve the therapeutic accuracy and efficiency.
Features of TomoTherapy:
TomoTherapy is an image-guided radiation therapy system which accurately locates tumours and adjusts doses of radiation accordingly, thus minimizing any harm to neighbouring tissues and organs.
With an intensity-modulated radiation therapy (IMRT) technique, the device can deliver beams from 360 degrees.
The built-in CT scan function captures images of tumours immediately before treatment sessions, which allows for a very precise targeting of tumours while ensuring the safeguarding of normal tissue.
Versa HD Linear Accelerator
Versa HD Linear Accelerator
Features of ELEKTA Versa HD Linear Accelerator:
4D image guidance: Overcome shift of tumour due to breathing and movements and always treat the tumour at its correct location.
6D patient positioning platform: Provides six degrees of positional correction, ensuring maximum accuracy before treatment.
Agility™ 160-leaf MLC: High resolution beam shaping for more precise dose conformity to the tumour
Volumetric modulated arc therapy (VMAT): Radiation beams sweep around the patient, reducing exposure to surrounding healthy tissues and sparing critical organs around while delivering much faster treatment.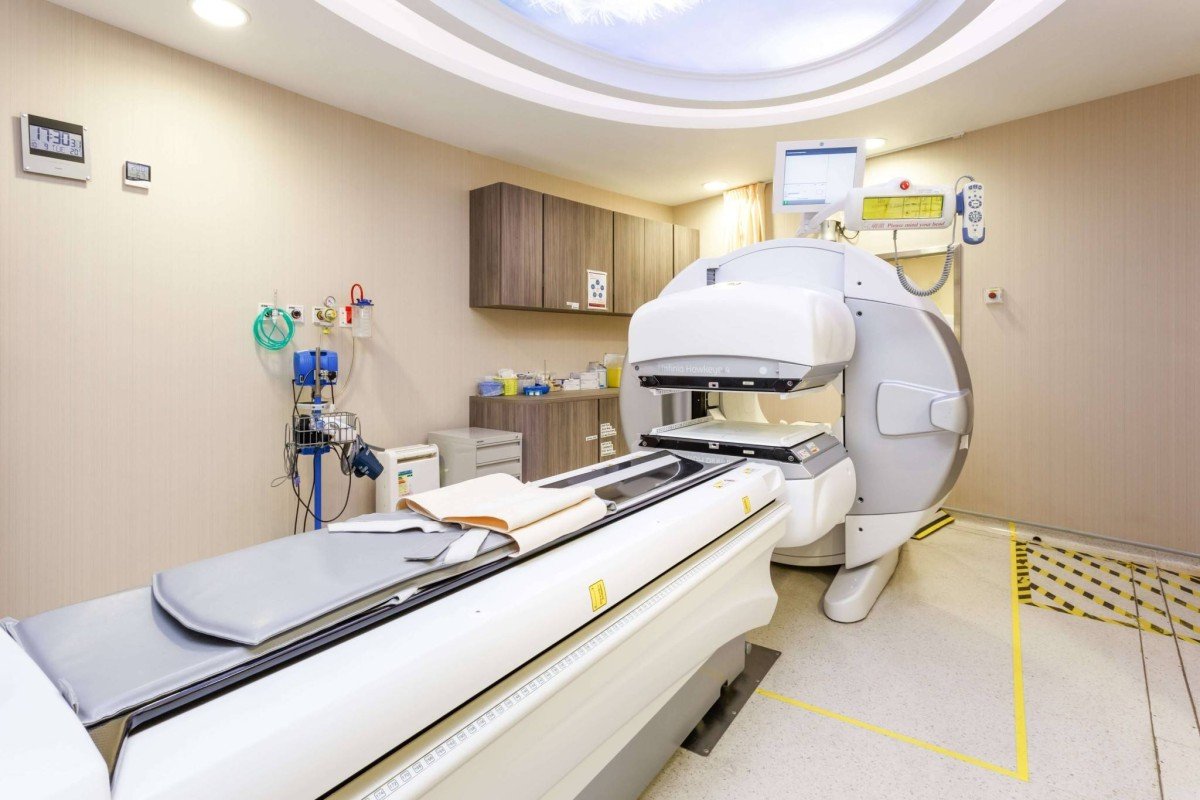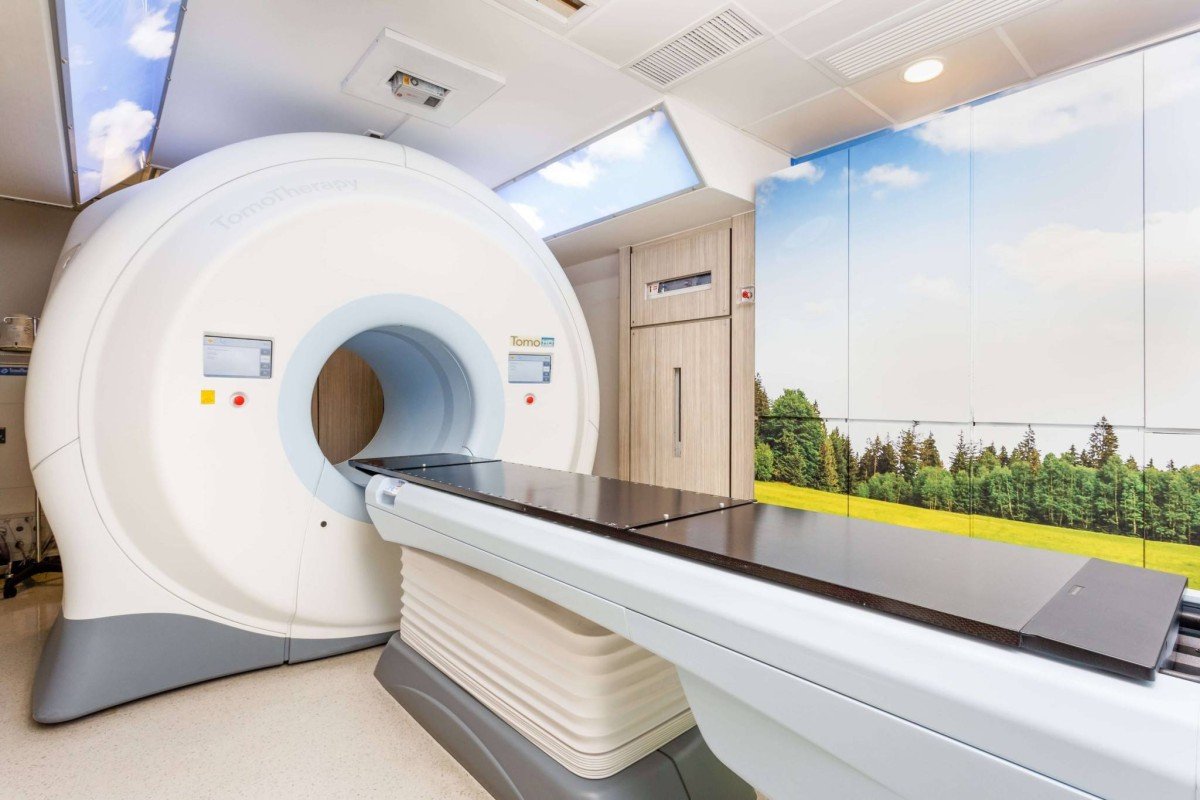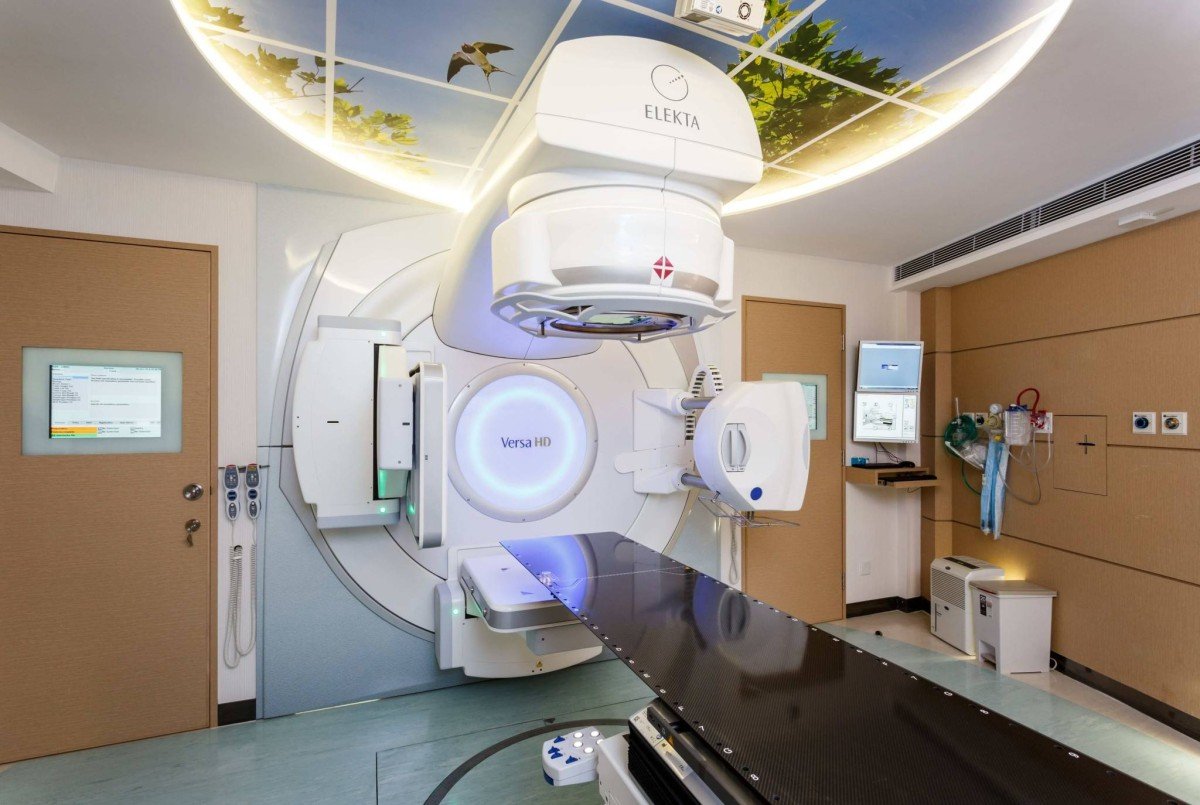 Diagnostic Imaging Department
Diagnostic Imaging Department
Enquiries: 28350515
DIAGNOSTIC IMAGING DEPARTMENT
Items

項目

VIP/Private

Semi-Private

Standard

Out-Patient

HK$

HK$

HK$

HK$

Computed Tomography (CT Scan)

電腦掃描

 

 

 

 

CT brain (without contrast)

腦部(平片)

$4,620

$4,000

$3,050

$2,500

CT brain (W/WO Contrast)

腦部(單用顯影劑)

$8,320

$7,200

$5,490

$4,500

CT Thorax (W/WO Contrast)

胸部(平片及顯影劑)

$11,840

$10,240

$7,800

$6,400

CT Upper Abdomen (W/WO Contrast)

上腹(平片及顯影劑)

$11,470

$9,920

$7,560

$6,200

CT Lumbar Spine

腰椎

$7,950

$6,880

$5,240

$4,300

CT Upper Extremity:

Each Area No Contrast

上肢: 一個部位(平片)

$6,840

$5,920

$4,510

$3,700

CT Lower Extremity:

Each Area No Contrast

下肢: 一個部位(平片)

$6,840

$5,920

$4,510

$3,700
| | | | | | |
| --- | --- | --- | --- | --- | --- |
| Magnetic Resonance Imaging (MRI) | 磁力共振 | | | | |
| MR Brain (Without Contrast) | 腦掃描(平片) | $12,020 | $10,400 | $7,930 | $6,500 |
| MR Brain (W/WO Contrast) | 腦掃描(平片及顯影劑) | $17,760 | $15,360 | $11,710 | $9,600 |
| MR Liver (With Contrast) | 肝臟掃描(平片及顯影劑) | $19,980 | $17,280 | $13,170 | $10,800 |
| MR Pelvis (With Contrast) | 盆骨腔器官掃描(平片及顯影劑) | $19,980 | $17,280 | $13,170 | $10,800 |
| MR Lumbar Spine (Without Contrast) | 腰椎(平片) | $11,840 | $10,240 | $7,800 | $6,400 |
| MR Extremity (1 Region) (No Contrast) | 上或下支掃描(平片) | $11,840 | $10,240 | $7,800 | $6,400 |
| | | | | | |
| --- | --- | --- | --- | --- | --- |
| Radionuclide & Molecular Imaging | 放射同位素診斷 | | | | |
| NM Bone Scan | 骨骼掃描 | $13,500 | $11,680 | $9,340 | $7,300 |
| NM Myocardial Perfusion Scan (Rx Stress) | 心肌灌注雙核素掃描- 藥物輔助 | $21,460 | $18,560 | $14,840 | $11,600 |
| | | | | | |
| --- | --- | --- | --- | --- | --- |
| X-Ray | X光 |   |   |   |   |
| XR Skull - Single Lateral view | 頭顱 -側位 | $660 | $570 | $500 | $360 |
| XR Chest - Single view (Routine) | 胸部 (1像) | $680 | $590 | $510 | $370 |
| XR Mammogram | 乳房造影 (雙側) | $2,750 | $2,380 | $2,080 | $1,490 |
| XR KUB (Routine) - Single view | 泌尿系統平片 | $720 | $620 | $540 | $390 |
| XR Cervical Spine - AP & Lat | 頸椎 (正位及側位) -2像 | $1,270 | $1,100 | $960 | $690 |
| XR LS Spine - AP & Lat (routine) | 腰椎 (2像) | $1,270 | $1,100 | $960 | $690 |
| XR Extremities - Two views | 上肢或下肢 -2像 | $1,050 | $910 | $790 | $570 |
| XR Barium Meal | 胃及十二指腸鋇餐造影 | $3,330 | $2,880 | $2,300 | $1,800 |
| XR Barium Enema | 大腸鋇劑灌腸造影 | $5,920 | $5,120 | $4,090 | $3,200 |
Ultrasound (US)

超聲波

 

 

 

 

US Thyroid

甲狀腺

$2,860

$2,480

$1,890

$1,550

US Upp Abd:

GB, Liver ,Kid ,Pancreas ,Spleen

上腹部(肝、膽、胰、脾)

$4,810

$4,160

$3,170

$2,600

US Pelvis

婦科

$2,860

$2,480

$1,890

$1,550
| | | | | | |
| --- | --- | --- | --- | --- | --- |
| PET-CT | 正電子及電腦雙融掃描 |   |   |   |   |
| PET / CT Whole Body Trunk Survey | 全身正電子及電腦掃描雙融掃描 | $27,400 | $17,680 | $13,600 | $13,600 |
| PET / CT Whole Body Trunk Survey (+C) | 全身正電子及電腦掃描雙融掃描 (CK) | $34,450 | $22,230 | $17,100 | $17,100 |
Room Type

VIP or Private: Single

Semi-Private: Single or 2 Beds

Standard Ward: 3 or 5 Beds
Remarks:
The above prices are for your reference. There may be further details that are not included here. Please re-confirm the prices with our staff prior to receiving treatments or examinations.

Charges will be adjusted for urgent care service and services provided during non-office and non-clinic hours.

Prices and product information are subject to change without prior notice. In the case of dispute, Hong Kong Adventist Hospital – Stubbs Road reserves the right to make all final decisions.

Effective Date

:

2023/1/1

(

Subject to the latest version

)
Lower basement, Hong Kong Adventist Hospital – Stubbs Road
40 Stubbs Road
Hong Kong
Monday to Thursday
09:00 to 20:30

Friday
09:00 to 16:30

Saturday, Sunday and Hospital Holiday
Closed