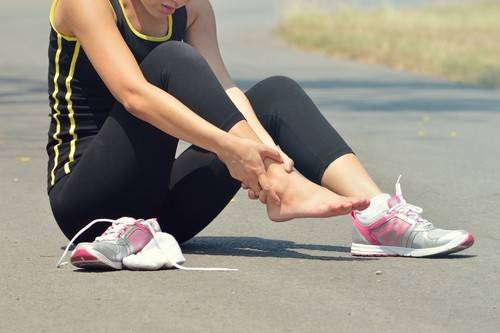 Purpose: To prevent the worsening of the limb injury and to allow sufficient time for the affected limb to rest and recover.
Let the affected limb rest as much as possible within 48 hours after the injury.
After 48 hours of the injury, you can resume activities gradually. The degree of activity should depend on the injury severity. If you feel pain, just refrain from doing the activity.
Follow your doctor's instructions for walking and weight bearing exercises.
Purpose: To prevent continuous swelling of the affected limb and to reduce pain.
When the affected limb has redness, swelling, heat, or pain in the first two days after the injury, apply a cold compress.
Use plastic bags to hold ice cubes, then wrap the plastic bag with a towel and apply it to the affected area. Never apply ice cubes directly to the skin.
Apply ice every 2-4 hours for about 15-20 minutes.
Purpose: To help the affected limb decrease swelling.
After the injury, elevate the affected limb in a comfortable position. Use one or two pillows to cushion the affected limb while sitting or lying down to help lymphatic circulation and to help decrease the swelling of the affected limb.
Purpose: To make the affected limb feel better, to prevent swelling, and to protect the affected area from getting a sprain again.
How to use: Use elastic socks or elastic bandages to wrap around the affected area
Use an elastic sock: Place the affected limb in the middle of the double-layered elastic sock and let the toes out to observe blood circulation from the toenails.
When using an elastic bandage with fixed bandaging, you must regularly check whether it is too loose or too tight. Bandaging that is too loose does not provide proper pressure on the injured limb, whereas tight bandaging can lead to poor blood circulation or even numbness sensation.
Stop using bandages in any of the following conditions:
Stop using bandages in any of the following conditions:
Numbness or needle prick sensation in the toes of the affected limb
Increased pain in the affected limb
The swelling of the affected limb has completely subsided
Before sleep
Dangerous signs to watch out for:
Dangerous signs to watch out for:
Generally speaking, it takes about two to three weeks for the swelling and pain in the affected area to resolve gradually. You should return to the urgent care room if:
The ankle and foot injuries are more serious than at the beginning, symptoms such as paleness, numbness, needle prick sensation, or burning sensation appear in the affected limb.
You have difficulty in mobilizing, and your mobility is severely reduced, and there is increased pain a few days after the injury.
If you have any of the above conditions, please return to the urgent care room immediately or contact 3651 8888 for consultation arrangement.