Steps for Covid-19 Vaccination
(Version: 2023/04/23)

Click Here for Online Appointment
Fosun/BioNTech "Comirnaty" Bivalent Vaccine
For persons aged 12 or above: Sunday to Tuesday, from 14:00 to 17:00
(Except Hospital Holiday)
Before making an appointment:
Please refer to the government website for most updated information before making the appointment: https://www.covidvaccine.gov.hk/en/

Hong Kong Adventist Hospital – Stubbs Road (HKAH – SR) is offering Fosun/ BioNTech "Comirnaty" bivalent vaccine to eligible persons under the COVID-19 Vaccination Programme. For vaccination eligibility and requirements, please refer to https://www.covidvaccine.gov.hk/en/recommendedDoses

If you have are unsure of the suitability for vaccination due to your medical condition, with history of immediate (within 1 hour) severe allergic reaction to prior COVID-19 vaccination or to more than 1 class of drugs, or allergic reaction to prior COVID-19 vaccination which is not self-limiting or did not resolve by oral anti-allergy drugs, please do consult your doctor or a specialist in immunology and allergy in advance.
If you have received COVID-19 vaccine outside Hong Kong, which was neither CoronaVac nor Comirnaty, please seek for professional advice at Government Community Vaccination Centre.
Please note before arriving at HKAH – SR:
All patients and visitors must abide by the hospital's infection control and triage procedures.

Please wear a mask at all times and maintain social distance.

Please bring your personal identification (i.e. Hong Kong identity card or Hong Kong birth certificate) and SMS message confirming your booking.

If you are under 18 years old, please bring along the signed consent for vaccination (Link: https://www.covidvaccine.gov.hk/pdf/Consent_Form_for_COVID19_Vaccination_ENG.pdf) and be accompanied by your parent / guardian upon arrival on the day of vaccination.

Immunocompromised patients should bring along with them a medical certificate on the day of receiving the additional dose(s). (A medical certificate template is available here : https://www.covidvaccine.gov.hk/pdf/Medical_Certificate_of_Third_Dose_Eligibility_for_Immunocompromised_Persons.pdf) .
Vaccination process:

Step 1:

Online booking

After receiving your booking request, you will be contacted within 24 hours.

Existing clients of HKAH – SR may make appointment via HKAH mobile app for real-time booking.

Walk-in services are not available.

Step 2:

Arrive and register

Please arrive at the out-patient registration desk 15 minutes before your appointment. Hospital staff will direct you to waiting area 3 located in the out-patient department after registration.

Step 3:

Sign consent form

Medical staff will briefly review important information about the vaccine with you and ask you to sign a consent form.

Step 4:

Vaccination

Medical staff will administer the vaccine, and provide you with a printed record of your vaccination.

Step 5:

Proceed to resting area

Rest for 15 to 30 minutes at the waiting area. You may leave the hospital if you do not experience any adverse reactions within this time.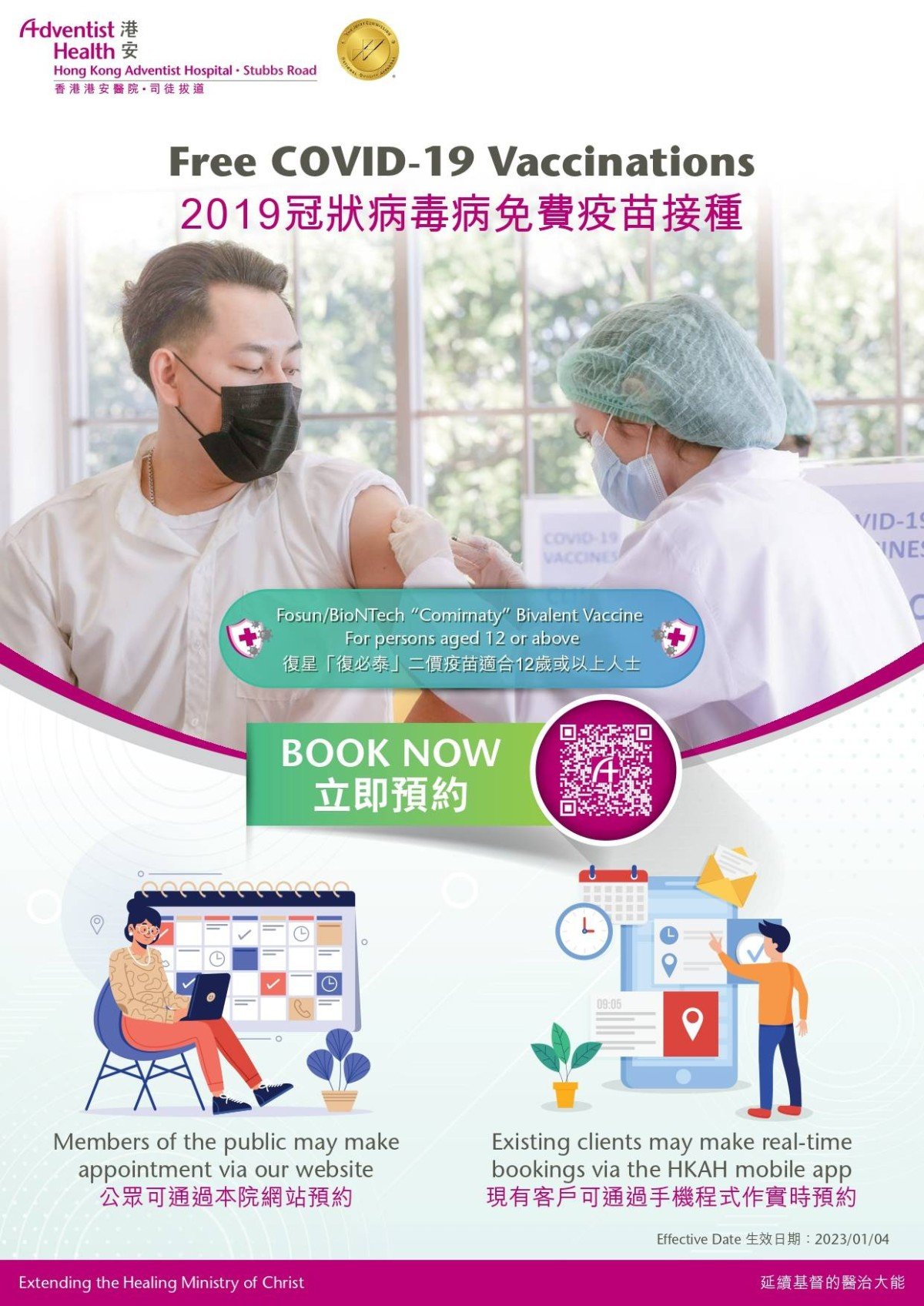 View Details Here