All subsidy spots have been allocated, thank you for your enthusiastic response. Please stay tuned for more community programs coming soon!
Plan 1: Total knee replacement operation (single knee) HK$116,000 after deduction of subsidy (Original Price: HK$150,000)
Plan 2: Total Hip Replacement Surgery (unilateral) HK$119,000 after deduction of subsidy (Original Price: HK$150,000)
Objective
The Joint Replacement Operation Subsidy Scheme launched by Hong Kong Adventist Hospital – Stubbs Road (HKAH – SR) aims to provide financial support for patients in need either operation, so that they may receive treatment and regain their health and mobility as soon as possible.
Program Details
Subsidies offered by HKAH – SR as part of the Joint Replacement Operation Subsidy Scheme cover fees associated with single total knee or unilateral total hip replacement surgeries and hospital accommodation. Participating doctors also reduce their charges for patients under this scheme, while patients themselves are responsible for a portion of the fees as well. Fees associated with single total knee/unilateral total hip replacement operations include:
Designated orthopedic surgeon's surgery fee, ward round fees, and first post-discharge consultation fee

Designated anesthesiologist's fee

Operating room fee

Operating room equipment fee

Fees for operating room consumables/materials

Cost of artificial joint

Accommodation charge for standard room (5 days, 4 nights)

Fees for 4 physiotherapy sessions during hospital stay

Basic care and medication fees

Diagnostic fees for required and related laboratory tests and imaging
Applicant Eligibility
Hong Kong resident aged 60 or above

Participant of the Hong Kong Government's eHealth platform (required)

In stable health condition (patients taking long-term medication must submit their medical records)

Medically diagnosed with severe knee/hip degeneration that is affecting your daily living
How to Apply
Download the Program Details and Application Form

(Please click "Download PDF" to download the application form and FAQ)

Prepare all the required documents

HKID copy of patient and guardian (if applicable)

Medical reports (e.g., for long-term conditions such as
hypertension or diabetes)

Copy of appointment slip (for next follow-up consultation)

Submit the completed application form along with the required documents to HKAH – SR by:
Enquiries: (852) 3651 8873
Important Notes
Subsidies under this scheme may not be used in conjunction with direct billing and patient reimbursement

.

Patients must be assessed by a designated orthopedic surgeon at HKAH – SR (HKAH – SR) to determine their suitability for total knee/hip replacement surgery.

Opeerations are conducted by a hospital-designated orthopedic surgeon at HKAH – SR.

Please ensure that the application form is completed in its entirety, duly signed, and that the information supplied is true, complete, and accurate.

Please ensure that all filled-in information and attached documents are clear and legible. If information is blurry or illegible, HKAH – SR reserves the right to reject the application.

The assessment process will begin only after the Hospital receives all required information and documents.

In some cases, applicants may be asked to supply additional information or forms of identification, or meet with a hospital representative in person. HKAH – SR may also contact the applicant's attending physician to obtain further information.

Due to limited number of subsidy recipient spots, HKAH – SR reserves the right of final decision. Applicants shall not raise any objections.

HKAH – SR reserves the right to amend, suspend, revoke, or discontinue the scheme or any individual application at its discretion.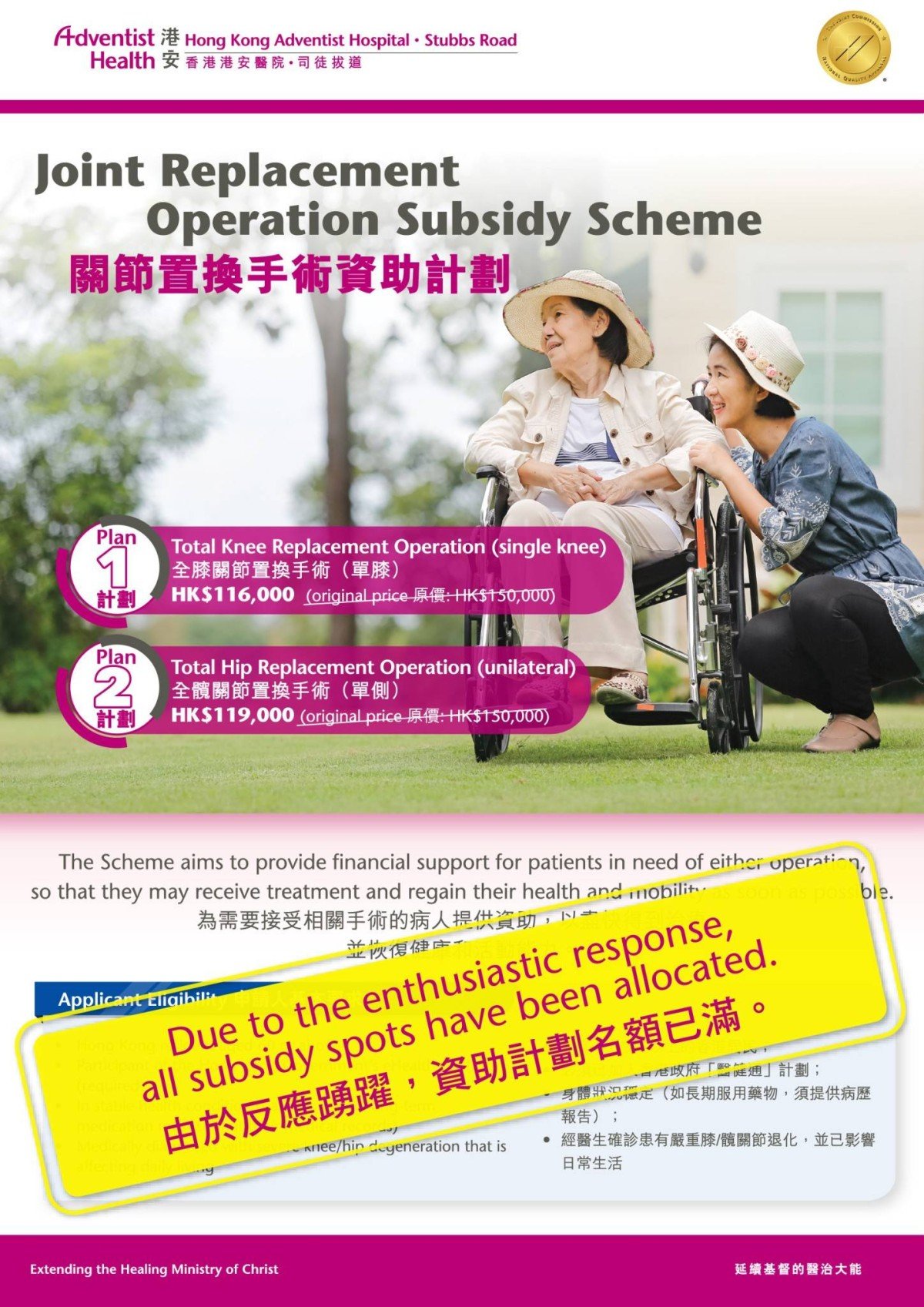 View Details Here