3 Days 2 Nights Standard Obstetric Packages 
Elective (Pre-Booked) Cesarean Special offer HK$ 12,900*
Normal Vaginal Delivery Special offer HK$ 13,300*
*Doctor's Fee Excluded
Husband's Attendance During Delivery (Free)
Personal Birth Plan
Baby Security System
Rooming-In
Applicable to all HA expectant mothers
Deposit for confirmation of booking is not required
Limited quota available on a first-come-first-serve basis
Booking and Enquiry : (852) 2835 0523^ ob.unit@hkah.org.hk
^ Mon to Fri 8AM to 4PM, Except Public Holidays
Other Self-paid Items




Extended Hospitalization (including room rate and nursing care)

Mother and Baby

HK$2,980/day

Baby

HK$1,800/day

Baby for Neonatal Jaundice (NNJ)
Including: 1 photo therapeutic light and the protective eye patches

HK$3,480/day

Addition Items for Vaginal Delivery (Elective)

Epidural / Spinal Anesthesia

Including: hospital procedural charge, all instruments, sterile supplies, monitoring and all initial drugs of epidural/ spinal anesthesia

Not including: Anesthesiologist fee

HK$7,300

Forceps or Vacuum Delivery

HK$1,400

Other items

Stem Cell Storage

HK$1,300
Promotion Terms and Conditions
The promotion period starts from 9 May to 30 September 2022 (both days inclusive).
To enjoy this promotion, participants is required to give birth within the promotion period.
To be eligible, expectant mothers should:

Have at least ONE antenatal checkup with Hong Kong Adventist Hospital – Stubbs Road (HKAH – SR) designated obstetrician or Adventist Medical Center's (AMC) obstetrician;
Have a obstetrics booking with public hospital;
Be a participant of the Hong Kong Government's eHealth platform
Present the referral letter from HA doctor while booking HKAH – SR obstetrics service (if any).

For booking a HKAH – SR or AMC obstetrician, please contact our staff.
This promotion is not applicable to specific hours for deliveries, ladies with multiple pregnancies, high risk pregnancy (such as placenta praevia, antepartum hemorrhage, preterm delivery < 34 weeks gestation, fetus with known or suspected major intrauterine malformation, etc), and ladies who already have a confirmed obstetrics booking at HKAH – SR.
This promotion is for standard room only and may not be upgraded to other room types.
Elective (Pre-Booked) cesarean sections will only be booked during routine operating room hours (Mondays to Thursdays 08:00 - 20:00, Fridays and Sundays 08:00 - 18:00, except Saturdays and hospital holidays).
The emergency cesarean service will be applied to deliveries where the physician provides less than 4 hours notice to the operating room. For details, please contact our staff.
A HK$13,300 (Normal Vaginal Delivery) / HK$12,900 (Elective (Pre-booked) Cesarean) deposit is required upon admission.
Doctors' fee (such as obstetrician, pediatrician and anesthesiologist) excluded. For details, please ask the relevant doctors.
Anesthesia medication is not included in the obstetrics packages. Please contact our staff for details.
Meals are not included in the obstetrics packages. Patients may order food from our menu, which includes Chinese and western vegetarian cuisine.

Whilst the same personalized care and services which included in our "Obstetric Services Packages" will be given to all participants. For details of our obstetrics packages, please refer to the package catalog (link:https://bit.ly/ObstetricBooklet ). (Remarks: Subject to relevant terms and conditions.)

Applicants may be contacted by a hospital staff to obtain further information if necessary before the confirmation of booking.

The above packages commences on the time of admission registration.

There is no refund on packages for early discharge.

Admission and visitation is required to comply with the relevant guidelines. For details, please refer to "COVID-19 Precautionary Measures" (Link: https://www.hkah.org.hk/en/patient-infomation/important-information).

Extra charges may apply under the following circumstances, please contact our staff for details:

Isolation rooms are allocated on instruction from the doctor for clinical indications or if required by the HKAH – SR's infection control policy

Standby of operating room if requested by the doctor (for non-office hours and external cephalic version)

Cesarean procedure exceeds the allotted time

Extra laboratory tests, examinations, treatments, procedures, or nursing procedures not included in the package are required to serve specific conditions of mother or baby

Medication, equipment, or medical supplies excluded from the package are required

Estimated fetal weight < 2.3kg

Mother or baby has complications during or after delivery

Natural vaginal delivery/ elective (pre-booked) cesarean is replaced by emergency cesarean section delivery

Emergency services beyond an Emergency Cesarean section are required

Inter-hospital transfer and transportation for mother and/or baby to HA hospitals

HKAH – SR reserves the right to suspend, revise, or terminate this offer at any time, and to amend the terms and conditions thereof from time to time without prior notice. In the case of dispute, the decision of HKAH – SR shall be final.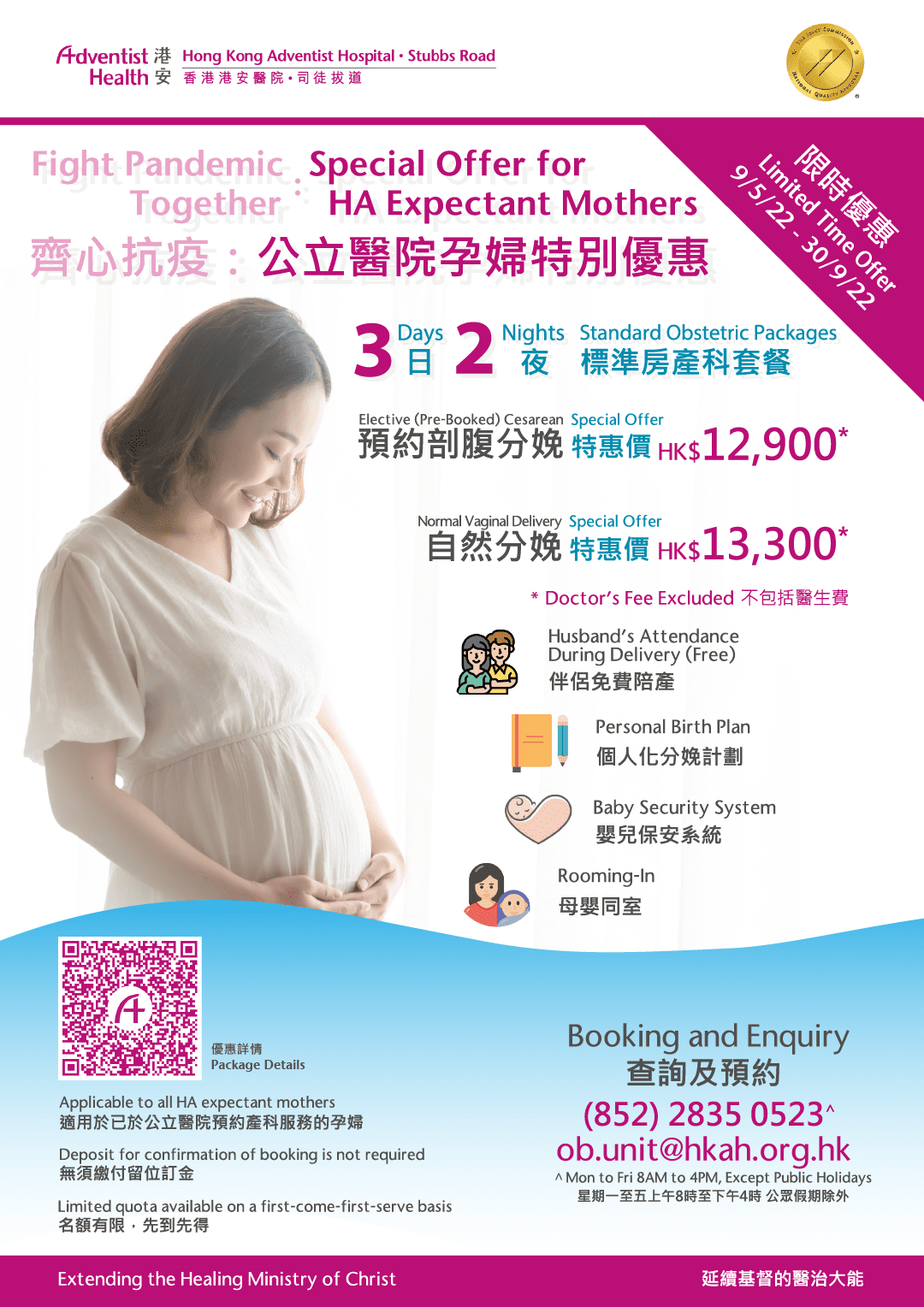 詳細はこちら