40% Off: Cardiac Diagnostic Imaging Services Excluded
X-ray
Ultrasound
Computed Tomography
PET Scan
Magnetic Resonance Imaging(Brain, spine, bones and joints of upper and lower extremities, blood vessels, etc.)
DEXA Bone Density Test
25% Off: Cardiac Diagnostic Imaging Services Excluded
Radionuclide & Molecular Imaging
25% Off: Diagnostic Imaging Services Related to Cardiac
Terms and Conditions:
These offers are only applicable to patients referred from public hospitals. Please mentions this when making an appointment and present your Hospital Authority (HA) referral letter during registration.
These offers are exclusively available for out-patient services only.
These offers cannot be used in conjunction with other promotional offers, direct billing and patient reimbursement. 。
Payment is required to be made either in cash or electronic payment methods.
Patients are recommended to provide their medical records as supplied by the Hospital Authority, or the personal identification number (PIN) for uploading to the "Electronic Health Record Sharing System (eHealth)". For more details, please call the eHealth enquiry hotline at 3467 6300.
Hong Kong Adventist Hospital – Stubbs Road (HKAH – SR) reserves the right to make changes or terminate the offers any time without prior notice. In case of dispute, the decision of HKAH – SR shall be final.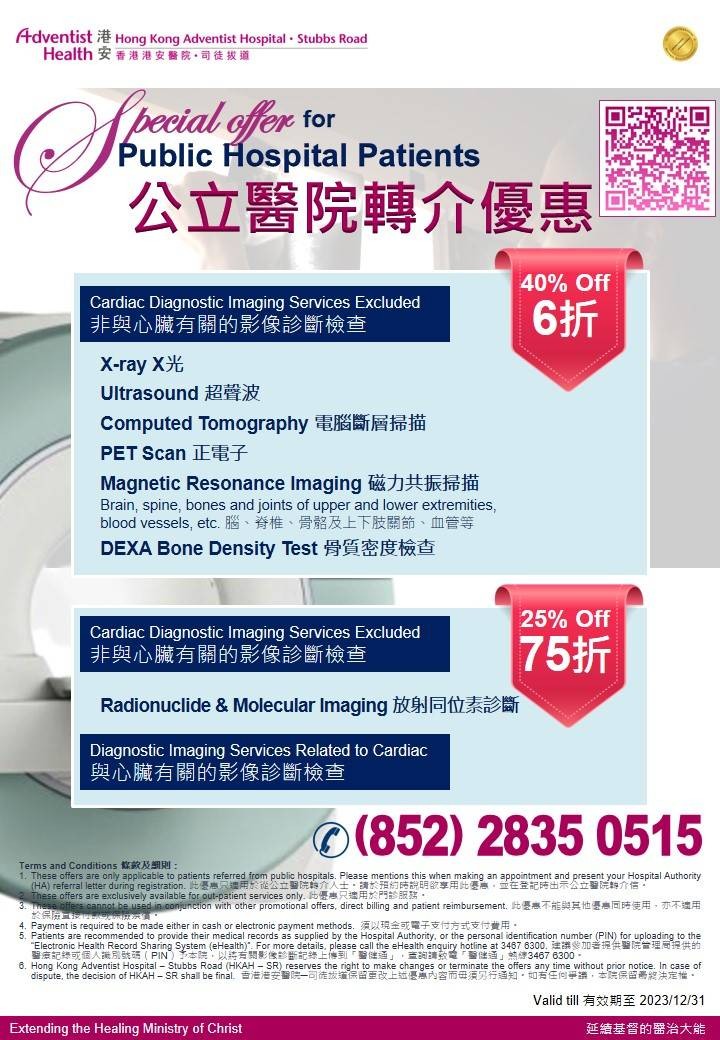 詳細はこちら